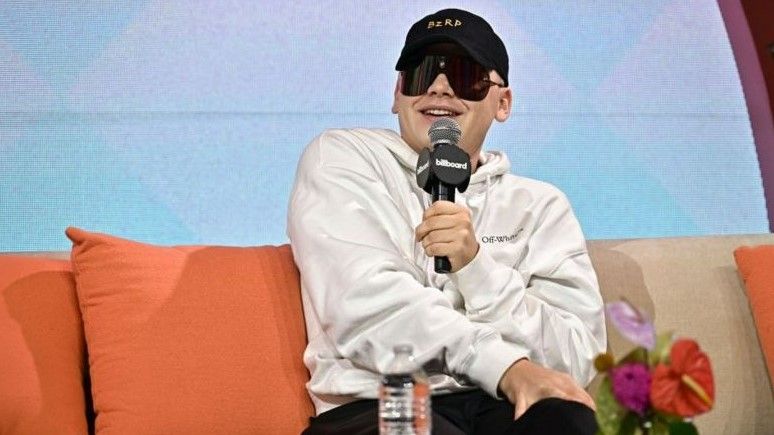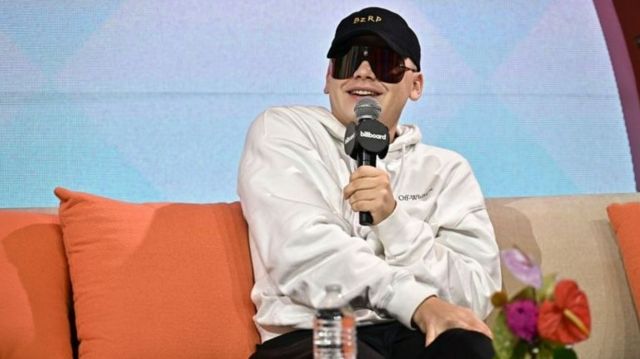 He often wears the same outfit: dark glasses, a cap that covers his forehead, sports clothes and, on occasion, black nail polish. It seems that Bizarrap wants to go unnoticed, although it may just be a marketing strategy, given the global notoriety he enjoys.
What is undeniable is that the 24-year-old producer and DJ was the most listened to Argentinian in the world on the Spotify platform in 2022 (he reached the 49th position globally) and became a benchmark in terms of urban music.
His story is similar to that of many other trap, hip-hop and reggaeton artists: a neighborhood "kid", who learned to make music on his own and with his own means, who was first ignored by the press and adored by many today.
And while it reads like a repeat biography, that of course doesn't take away from his accomplishments. There are his high-profile collaborations and the numbers.
He has over 16 million subscribers on YouTube, songs with Residente, Nathy Peluso, Nicky Jam and Nicky Nicole, and some videos that have racked up over 300 million views.
What's unusual is that he doesn't sing, he just does the "track". And yet, his name resonates as much as that of his colleagues.
"Quedate", the song he released last July with Spanish rapper Quevedo, has become the song of the summer in many Spanish-speaking countries, topping the charts in countries as far apart as Portugal and Spain. Italy, and as close as Uruguay and Paraguay.
It also ranked No. 1 on Billboard's World 200 Songs chart after its release and was the seventh most-played song worldwide on Spotify in 2022.
Shakira's message to Pique
Today, the Argentinian is causing a stir again with a highly anticipated song featuring Colombian Shakira, which was released on Wednesday.
In the lyrics of the song, Shakira makes a direct reference to her relationship with ex-footballer Gerard Pique, from whom she separated a few months ago amid allegations of infidelity on his part.
"I'm sorry, I've already taken another plane, I won't be coming back here, I don't want another disappointment. You are such a champion and when I needed you, you gave your worst version ", sings Shakira.
"It's a good person's name, it's clearly not what it sounds like. She has a good person's name, clearly she's like you. For guys like you. I've outgrown you and that's why you're with a girl like you," she continues.
She also refers to a court case the artist is facing in Spain for alleged tax evasion: "You left me like a neighbor to my mother-in-law, with the press at the door and the debt to the public treasury" .
And in another excerpt, the artist seems to recall one of his old and popular songs: "Loba".
"A wolf like me is not for guys like you," she said. And she adds: "Women don't cry anymore, women charge".
With Bizarrap's creative ingenuity, everyone expects the song to be a hit. Above all thanks to the "winning formula" developed by the "bonaerense", as those who come from the province of Buenos Aires are called.
BZRP Sessions
Born Gonzalo Julián Conde in the small town of Ramos Mejía, he first posted videos on YouTube of freestyle battles, the improvised rap competitions that are booming in his country and in other parts of Latin America and from Spain.
But then in 2018, in a studio at his home, Biza, as he is also known, begins creating beats and collaborating with freestyle rappers in what he calls the BZRP Freestyle Session. The virality of these productions led him to a new idea: the BZRP Music Session.
The approach is simple: he composes the music and invites an artist to write the lyrics. The videos, while well thought out, are made without much production behind them.
"At the beginning, I was editing rap battle videos. But when I started with the sessions, the views increased. And with Nicky Nicole's session, everything exploded: it was the most listened to in Argentina. J looked at Spotify's top 200 and there were 11 of my songs. I did some research and there was no precedent. That's when I was like, 'Okay, this 'is that, I have to dedicate myself to this full time,'" he told the newspaper El País a few months ago.
Biza indicated that the sessions are carried out in total collaboration. First, he talks to the artist, listens to his interests and current musical proposals, and recommends the type of song to do: something electronic, rapped, or something that moves with dembow.
"I like to work at the same time as the artist comes to the studio. I don't prepare the rhythm in advance. I prefer to talk, to see where it is. Then I give my point of view and I say: 'With I think you guys should do this kind of song,'" he told Forbes magazine of his creative process.
He also attributes the success of his songs to improvisation. And the fact is that the lyrics change until the last minute.
The song with Quevedo, he says, was written overnight. Session 51, with Puerto Rican Villano Antillano, one of his most streamed songs on Spotify with over 180 million views, was mostly written at the time of recording.
Producers as artists
Bizarrap has been recognized for much more than his musical talent. Billboard magazine, which devoted a cover to him in November 2020, identified him as a marketing genius.
The mystery he generates with his image, the collaborations that enrich each of his initiatives and the way he uses social networks, where he spends a lot of time anticipating his videos, are part of his success.
He himself acknowledged this in an interview with the publication.
"Bizarrap", as a concept, is a brand. The way to reach more people and get them to listen, conceptually, is marketing. I was a year away from finishing my degree, but as I saw my path in music developing, I decided to take a break and apply what I already knew to my project." he explained.
As he recounted, he studied marketing and, in fact, worked for two years with the production company Warner.
But the press also criticized him for having conceptualized the new category of "artists" that frames today's producers, especially in the urban genre, who are recognized by the public as much as singers, unlike pop. and rock, where the brains behind the hits are often unknown.
"Bizarrap is the first of a new breed of artists in Argentine popular music. The star producer is a figure that was vacant until Biza decided his voice and face would remain a mystery, but his work at the commands would take center stage and establish itself as the main author," Clarín said in an article that appeared a few weeks ago.
For his part, he claims that – although it seems contradictory – fame comes from his shyness.
"I like to put the artist first, even his name comes before mine. I don't know, I feel like as a producer I can put the artist first and still keep my own importance. I guess it's something that comes from my shyness, from my personality," he told Forbes.